Business T-Shirts With Logo Applied
(Made 12/2018; Modified 11/2022)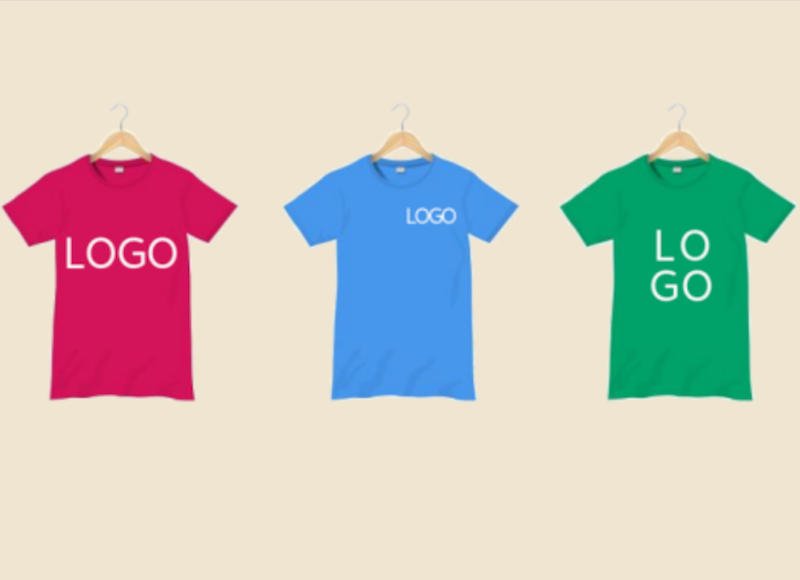 Have a company? Got a business? Need a business? Whatever the reality, get a logo. Or have clothing made with your logo. Clothing can be brought to the market rather quickly. Depending on design complexity, this could mean one day or similar.
The Process
Have a logo ready for the shirt.
Send message to inquire about the service.
Or skip inquiry and send email with logo example.
Determine how shirt is to be released...
private or public, small or large crowd, etc.
Payment proceeds with Paypal customer safety.
Delivery and completion.
This is the basic summary of the process. These are the basic nuts and bolts. Rather easy wouldn't you say? Questions? Don't be frightful, just contact. Many are hesitant about promoting. Through gentle persuasion of wearing a business logo t-shirt, outreach becomes easier. A lack of fear can be great initiative for actually wearing the shirt for marketing purposes!
Make It Easy
Making business t-shirts with logo completion is very simple.
It's pretty straightforward unless alterations are needed. And things like this may come up. That's why discussing things before payment is appropriate. This is also because the willingness is here present to alter the current logo if need be. Otherwise, there are several points to understand or questions to pose before making the completed product. It's probably smart to review some of these before ordering.
Have in mind the color or colors wanted for the overall shirt.
As for logo colors, the more numerous, the more difficult printing.
After that, how small or large is the logo to be?
And what would be the approximate placement?
And does the shirt require a font to some proportion?
Take time to ask yourself questions, and be satisfied with the finished product.
---
How Important Is The Logo
Does your business logo have clarity? Clarity is important so the logo can be exactly associated. You don't want people to guess at what it is you offer. Not the best position to be in, as individuals may just pass by. Secondly, time is used explaining instead of offering service. Thirdly, it may help with worker or team pride. And taking some pride or satisfaction in what one does, helps with performing tasks or duty.
There is a fun or interesting take on things. It applies specifically when a small business is beginning to take shape. The logo can be made and perhaps changed up again and again until arriving at something nice or sufficient to exist over time. The development can progress to see how things work out, the feel of the design, or other matters.
For the large or established companies, this is not something possible mostly. That is because these are already set in their ways. And that's understandable. Customers shouldn't feel confused about the vision of the company after all. This could easily give the impression off of the company not being fully engaged with current services. Customers like companies with vision and stability. This rather gives the impression of being reliable and having competency.
T-Shirt Marketing Strategies
Go farther, asking yourself about the purpose of getting the shirt made. Marketing has been a major reason in the past, for many companies. This is likely the reason. But whatever the reason, the process can be initiated and completed. The process of making business t-shirts with logo designed on the front or back, is not a very long one and shouldn't take much time.
If you can order with this site, great! Though next, it's time to go over some actions involving getting word out. For the individual artist or small business, some t-shirt marketing strategies include the following ...
As an individual, promote yourself.
If you're an artist then an example drawing could be placed on the shirt with your name attribution. If you're a baker, get yourself a t-shirt! This can easily convince people you know to give the bakery a try. If you're a writer then get creative! Have a couple paragraphs of some story, with your name attribution also. It's really easy. Just think of how to match something you do with a creative t-shirt concept.
Wear around the place of business.
This is very basic and is done by a great number of businesses. These can assist with focus and pride, especially if workers are treated right. Also, they can foster the spirit of working together toward the common purpose. Some companies require work wear, and some do not. One way is to have an option between two or more t-shirts. Present workers with some options for example.
Wear around with the logo and coupon image.
In other words, wear a statement about how to acquire some shop deal. individuals are prone to getting the right deal, like the buy one get one half-off, or 20% during certain hours. Whatever the deal or coupon, there is ample room on the clothing if made in abbreviated fashion.
Wear regarding a free offer when buying something.
If the potential customer buys something costing much, give something else away valuable. Make the offer enticing enough to get quite a few people accepting. If loss occurs, you can cut back. But if the offer is not right, enough people may not even accept anyway. Sometimes, it may even work out as a balancing act between the profit and customer loyalty. This can be tough according to the specific circumstances. The right success may come through testing things out though.
Give free t-shirts out, to grow local awareness.
This can work out great when selling something expensive. But it may also fit with other offers too. Give free t-shirts away, as an expansive marketing strategy. Awareness can grow, new customers can come, with nice service word can spread, and more customers can visit. Giving things out freely can really speed up the process, however the whole costs must be projected before going that route. For many, it is definitely not the right way to go about marketing.
Give away some very nice artistic shirt.
Have some very expensive artistic shirt made. Think to give that away after ordering some "special" package from your offerings. For example, order both A and B, get the designer t-shirt worth $50 or whatever price. Designer t-shirts can be found and are not very ordinary, being out of range for what most people would pay. Just meet with the right artist for the work. Of course this is not the right fit for the marketing method of quite a few services.
Make an unordinary t-shirt for business.
Don't make the shirt ordinary. Make it with the intention to draw some attention and questions. Hopefully this leaves the conversation open, even to discussing finer points of some business offer. The clothing could have questions printed on, strange friendly statements, or other things that could entice back and forth conversation. This is not the only possible marketing advantage. The clothing could have people talking about it, or referring friends to this "strange, but helpful" place. Out of the ordinary circumstances can surround the out of the ordinary shirt.
Now, if you want your business t-shirts with logo on them, just contact through this website.
The shirt logo, shirt logo with statement, or new t-shirt design can be put together and brought into reality. And if the concept is beyond the competency of DraftNook, perhaps you can be referred elsewhere. It is right to be satisfied with the work completed after all.
Example Business T-Shirts
Let's look at some examples of things that can be done. First up, the dance studio example. This shows off the complete address and contact information, for passers-by to inquire about. Don't be surprised to get some questions if wearing this over time. So what has been done with this kind of shirt graphic?
The font can be changed according to preference.
The borders can be reduced or lightened, or be more in tune with the true color of the shirt itself.
The original graphic had more color, but was altered for the vintage VCR-type effect. There are light reds and blue-greens that run through the effect.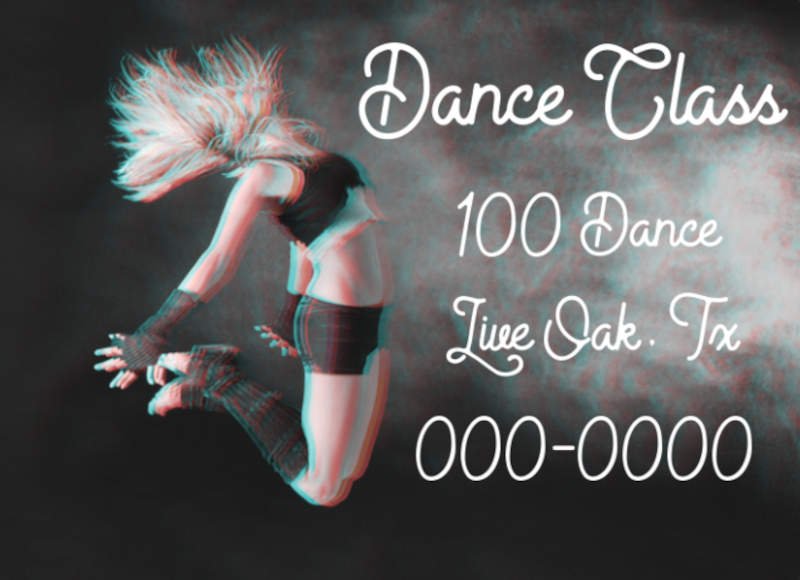 ---
The basic logo clothing can be turned into an even more artistic textual design. However, you may just want to opt for regular text. Many businesses for some reason just don't need too many fancy things. This is by preference of course. Again, these are just options or alternatives of what can be requested.
The logo or wording can have kind of a 3-dimensional look.
The logo or wording can be made smaller or larger, to preference.
It's even possible to incorporate two shades of coloration into the design.
---
You could read the t-shirt overview page to gain insight about different purposes for having clothing made. Covered are things like reunions, gatherings or other events.